I just love the Oscars. I love the films, the fashion, the personalities - the whole over-the-top glamourous splendour of it all. The live broadcast is in the middle of the night here in Britain but I don't care. I stay up all night wrapped in a blanket, eating popcorn and watching it all.
This year's Oscars were a particularly good watch. It's a shame that 'Mugabe and the White African' didn't make it through to the final short list for best documentary but they did incredibly well to get as far as they did. I was overjoyed to see a woman, Kathryn Bigelow finally winning Best Director. The mean part of me was particularly pleased that she beat her ex-husband, James Cameron of the mighty Avatar / Titanic / Aliens etc fame to the post. Bizarrely 'The Hurt Locker' hasn't been released in the UK yet but I certainly intend to see the film once it has been. Not sure how it managed to win a BAFTA without being released here...
Sandra Bullock was another treat this year. I thought her outfit was one of the best Oscars outfits ever.
Image courtesy of chron.com
That gorgeous Marchesa gown would look even better on me, (in my dreams!) but no matter, she looked exquisite. The beautiful, delicate embroidery on the bodice and the shimmering, metallic fabric just took my breath away but I think that the final touch of genius was the fuchsia lips. The obvious choice would have been a pillar box red but the pink made it fresh, youthful and modern.
Another surprise was Kristen Stewart. Her habitual surly glare to camera really gets my goat, (smile, girl, do you know how many people would kill to be in your position?) but last Sunday she actually managed to not only crack a smile but finally lose the irritating rebellious teenager attitude.
Image courtesy of sawfnews.com
However, my favourite person of the evening was the incomparable Gabourey Sidibe.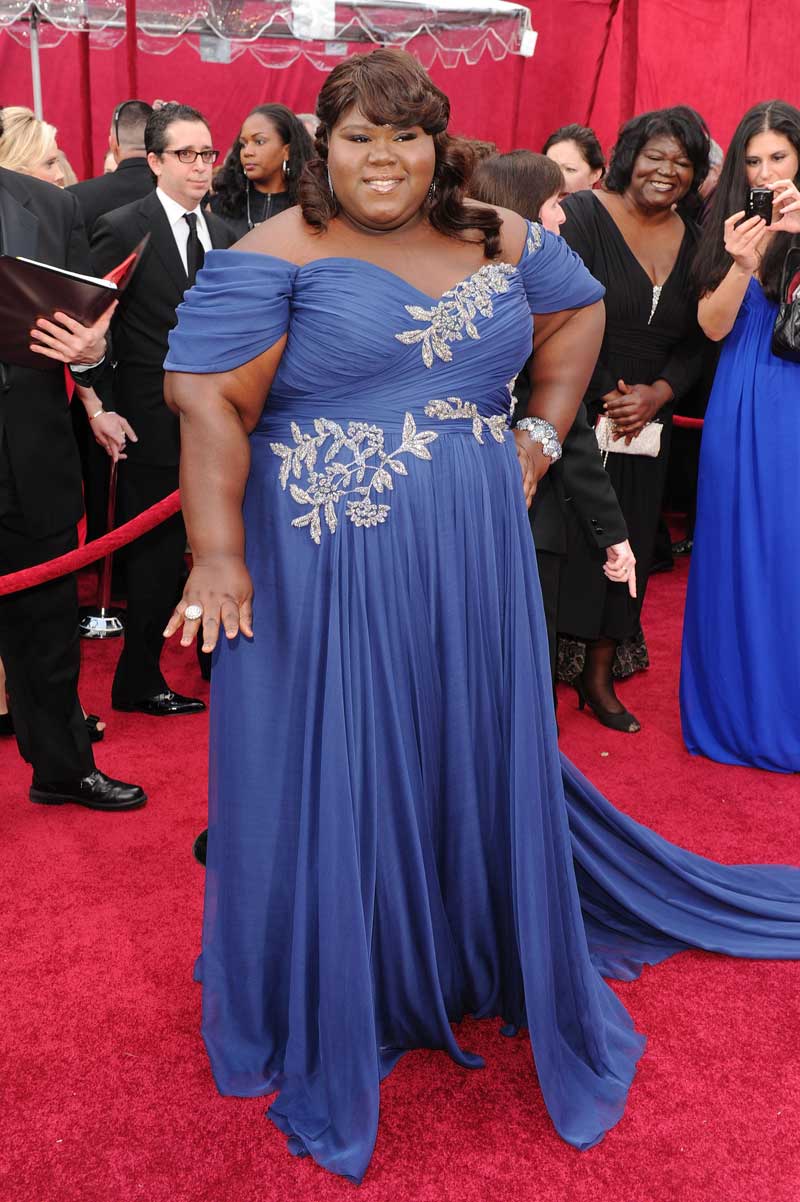 Image courtesy of huffingtonpost.com
I love the normalness of her. Yes, she's made some slightly duff fashion choices here, (the colour does nothing for her complexion and that applique across the waist & on the neckline only serves to broaden her) but who hasn't made some bad sartorial choices? She's brimming with joy just to be at the Oscars and I love that. If I ever got to go to the Oscars, (yea right), I'd be the Gabourey of the show.
In the absence of any real faux pas this year, I'm going to leave you with my favourite from times gone by - Bjork from the 2001 Oscars in her infamous swan dress.
Image courtesy of tvtropes.org