I know I'm late to the party but BB creams - wow! Or more specifically Maybelline Dream Fresh BB cream.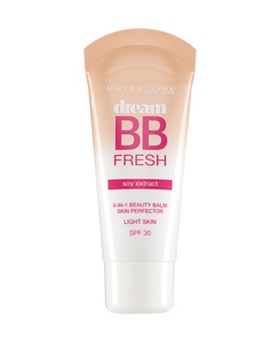 I knew I was going to like it as soon as I tested it in Boots. The colour (medium) blended seamlessly with my skintone and the dry, parched skin on the back of my hand felt instantly hydrated.
I have weird skin, a mixture of very dry and congested. I generally find that regular foundation dries out my skin & flakes around the really dry bits. I know - attractive. I was
very
pleased to find out that the BB cream kept my skin feeling constantly hydrated all day. Needless to say, it didn't flake either. It just gave me a smooth, fresh look. The slightly reddish bits of my complexion weren't obscured, just blurred, which was fine with me. I prefer to be able to see the texture of the skin because it gives a fresh natural look.
You can use it with or without moisturiser. I chose to use it on top of my moisturiser but I think that it'd be fine if I skipped the moisturiser.
Interestingly I also received rather a lot of compliments the first couple of times I wore it. The words 'radiant' and 'well' were used rather a lot...
The only criticism I have is that I could only find it in 30ml tubes. I found I needed to use rather a lot per application, consequently it's run out too quickly.
You can buy it in the
UK
for £7.99 and in the
US
for $8.99.
P.S. I haven't been paid either in money or products to write this review.